CIM OFFSHORE COVID SCHOLARSHIP
Thursday, 03 September 2020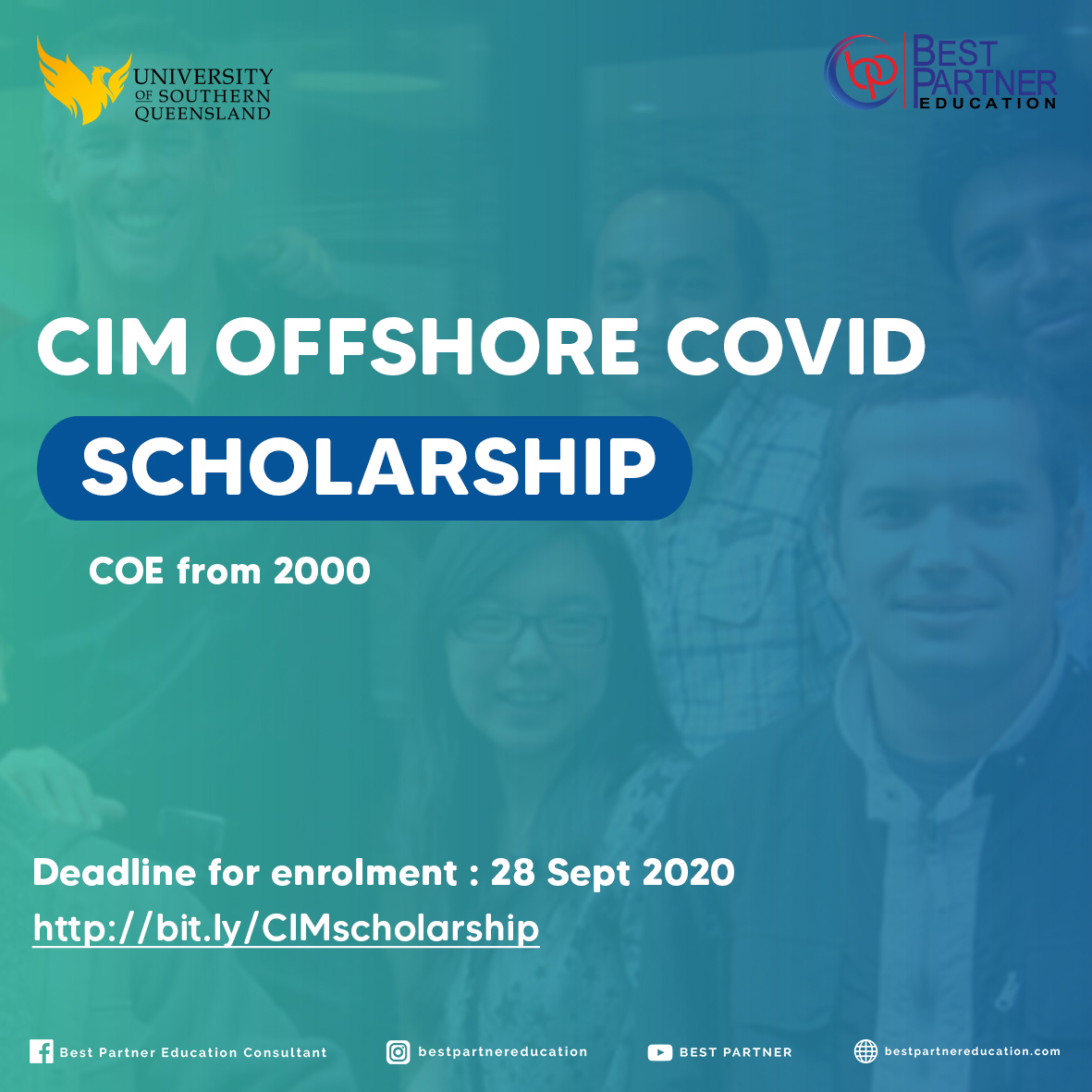 Promo Ended In :
00 d 00 h 00 m 00 s
DESCRIPTION
In response to the COVID 19 lockdown CIM has created an unprecedented oppurtunitu for Australian Resident Students to receive scholarships of up to 90% for commencing their three year bachelor of business program even now in 2020 startig 28 September (summer) intakes,
2020 (class will be online and switch to face to face mode when restrictions are lifted).

Offshore Visa grants have started by Department of Home Affairs for online delivery and students will be able to travel to Australia when government lift the border restrictions to International students who are granted visa's already. CIM have made special arrangements for smooth delivery of online studies including offering orientation and classes from 1.30 PM which is 9 am in sub continent and approx 10.30 am in South East Asian countries.
CIM is offering 4 Majors (6 Double Major options) in three years:
Accounting

Management

Information Systems

Hospitality Management OR

6 Double Major Options
PROMO DETAIL
30% scholarship on offshore online-study (charge you $ 5600 per Semester $1400 per subject for study instead of $ 2000 per Sem) till you arrive in Australia and commence study.

Fees Deposit Required: $ 8000 (Break Up Sem 1: $ 5600 Sem 2: $ 2400).

Normal fees applies when borders are open and students are able to arrive in Australia.

Fee Payment Options for 2 intakes:




Option 1(Preferred): Pay $ 8000+Application fees+OSHC before COE (Cost saving in 2 Telegraphic Transfers)




Option 2: Pay $ 2000 deposit for COE and balance to be paid after Visa grant

No Visa No fees: If your visa is refused CIM will refund full fees including application fees for 2 intakes( Sept 20 and Feb 21).
REQUIREMENTS
For more requirement needed, you can reach our counselor: here
DEADLINE
Deadline for enrolment is 28 Sept 2020

REGISTER
You can register yourself at the Best Partner Education office. Our education consultant will help you to manage all the requirements.

Our Office Location:
Jl. Prof. DR. Hamka Gg. Nilam 3 No.Depan, Sungai Jawi, Kec. Pontianak Kota, Kota Pontianak, Kalimantan Barat 78115
or you can reach this number
(0561) 8172583 and Best Partner Counselor
Silahkan isi form dibawah ini untuk info lebih lanjut: